6 September 2016 - A region that can generally be described as the patch of land situated halfway up the Peak, Mid-Levels is primarily a prime residential location for those who place high value upon living in close proximity to the work place. With the Mid-Levels Escalator providing an 800 meter stretch of open "effortless" transportation between Mid-levels and Central, residents have the option to avoid more typical struggles that commuters face when heading to and from work during rush hours. 
Of course, work should not consume the entirety of one's life and the office is not the only meaningful area situated in the vicinity of Mid-Levels. Sheung Wan, Central, and Sai Ying Pun are practically at the district's doorstep, providing an abundance of attractions from spacious parks to crowded bars, from consumerist hubs and shopping malls to introspective art galleries, whatever you may find will have a balancing counter-point. 
Artistic Meanderings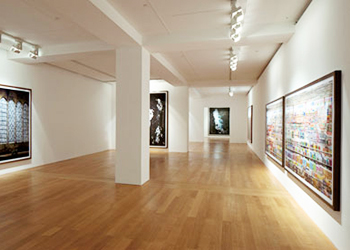 Though they each have their own eccentricities, art in its various forms remains one of the few constants between Sheung Wan, Sai Ying Pun, and Central. Whilst one cannot definitively categorize these places as homes for different categories of art, there seem to be certain trends that would suggest that you are more likely to find a certain type of gallery or art form in each of these locations. To elaborate, Central appears to have amassed a number of prestigious and well-established galleries (i.e. The Gagosian, Hanart TZ). Its close proximity to Mid-Levels makes it a convenient place to view the work of artists who have long made it onto the international scene.
In contrast, whilst Sai Ying Pun does not house similarly big players in the industry, it makes its mark by instead being an arena where contemporary modern artists can showcase their work. When speaking of the sort of institutions present within Sai Ying Pun, 2P Contemporary and Above Second stand out as recent, notable hosts for modern and contemporary artists. With new artists comes new perspective, so if you are interested in seeing an artistic talent blossom, head on over to Sai Ying Pun.
Sheung Wan takes yet another approach to art, with art overflowing the gallery walls and significantly contributing to the atmosphere of the district as street art, graffiti, murals, or acts of vandalism as one may call them. For those who prefer to imagine art as an unregulated force of expression, head down from the tower of your Mid-Levels apartment and proceed to Sheung Wan to observe walls colored by painters who prefer the veil of anonymity.
If private exhibitions are not quite your cup of tea, and you prefer more permanent exhibitions, there are a handful of museums within the proximity of Mid-Levels that might strike your fancy. These include: the Dr. Sun Yat Sen Museum (located on Castle Road), the Hong Kong Museum of Medical Sciences (found on Caine Lane), and the HKU Museum and Art Gallery.
Retail Therapy
For those less interested in appreciating pedestaled objects and more intrigued about buying them, we hear you. Shopping ranks as one of Hong Kong's quintessential strengths. However, this particular strength is not nearly as well disseminated and distributed near Mid-Levels compared to other districts. The overwhelming majority of nearby shopping locations can be found situated in Central, with big brands competing for prime space in the likes of the Landmark and IFC Mall. 
Dining, Drinking and Dancing
If you are looking for streets of bars and restaurants to explore and test your palette, Sai Ying Pun and Central provide a good selection within (arguably) walking distance of Mid-Levels. If you want a healthy mix of traditional and newer establishments, Sai Ying Pun is right up your alley, whereas you will have to travel a little bit away from Soho before you start running into traditional dim sum restaurants. One thing to note about both these locations is the smaller number of franchises. Many establishments in both areas are passion projects instead of corporate expansions, and it shows.
Where nightlife is concerned, Lan Kwai Fong remains Hong Kong's main locale for dancing into the early hours. If you are looking for a quieter scene, look towards the fringes of Central for some creative concepts that range from underground bars in market alleys to rejuvenated ping pong halls.
The Mid-Levels Escalator can take you places and we hope this article sets you on the path to exploring nearby areas and all that HK has to offer (if you aren't already doing so)! Just remember that as with some fairytales, the magic stops when the clock strikes midnight: the escalator in this case!