17 April 2015 - In Hong Kong, a concrete jungle where homes are expensive and life is generally fast-paced, living in an apartment with a roof terrace is a privilege for a lucky few to enjoy fresh air and private moments away from daily hassles. Aside from being a party venue or clothes-drying space, roof terraces can actually be utilized in many more amazing ways!
Rooftop cinema
All you need is a projector, a screen, a movie player and a sound system to enjoy extraordinary movie nights in your private 'sky-theatre' whenever you want. However, you might want to use a detachable screen and a portable sound system to avoid any damages and loss caused by unfavourable weather conditions, as well as the chance of breaching the terms of your building's Deed of Mutual Covenant regarding external wall affixtures.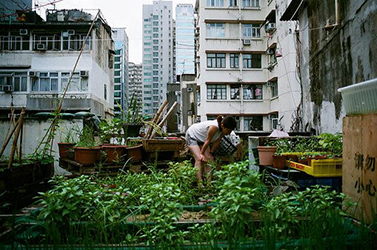 Rooftop farming
Long advocated by environmentalists and architects, rooftop farming not only helps improve air quality, it is also beneficial to penthouse apartments in insulating heat and noise as well as avoiding rainwater leakages. Besides, the weather in Hong Kong is ideal for rooftop farming all year round; you can grow a variety of vegetables, herbs and fruits such as mangoes, potatoes and peanuts. It is an absolutely exceptional experience to own a mini farm on top of your home where you and your family can feast on your own harvests every day.
Rooftop bedroom
If you have ever dreamt of waking up in the morning with sunshine on your face along with a deep breath of freshness, consider the rooftop hotel 'room' in Williamsburg, USA that rents for USD$100 per night. During rainy days, a tent will be added on top of the bed so customers can enjoy the 'symphony of rain' while staying dry inside the tent. If you would like to put a bed on your rooftop in Hong Kong, make sure the bed is collapsible and most importantly, ensure you have enough mosquito incense!
Rooftop sports ground
No matter which sport you are fond of, you might love the idea of making your private rooftop a practice field. It's not uncommon to see table tennis tables or pool tables on terraces in the city, so it is indeed an amazing idea to have your private golf course or even basketball court! Be very careful if you decide to have your own sports ground since it is generally forbidden to build any fixtures on rooftops, so make sure all the settings are detachable.  
According to the Buildings Department, roof structures in Hong Kong should comply with the requirements of individual building's Deed of Mutual Covenant and also the terms of government's building regulations. These forbid roof structures from overloading the building and blockading escape routes in case of fire. For more information, please refer to the "frequently asked questions" section on the Buildings Department's web page: http://www.bd.gov.hk/english/services/index_faqK.html