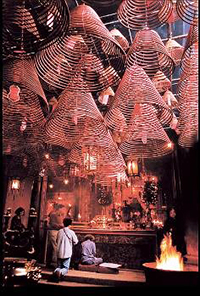 The Hong Kong people follow many faiths – Buddhism, Taoism, Confucianism, Christianity, Islam, Hinduism, Sikhism and Judaism.   Aside from offering spiritual guidance, most major religious bodies also manage schools and administer health care and welfare to the general community.  The traditional Chinese religions of
Buddhism
and
Taoism
have the largest, albeit "secular", followings.  Many of the more than 600 temples are dedicated to deities from these faiths.  They range in size from small altars along the street to large edifices like the Wong Tai Sin Temple in Kowloon and the Man Mo Temple in Hollywood Road on Hong Kong Island.   
Christianity was first introduced to Hong Kong in the early colonial days of the mid-nineteenth century.  Today, Christians are estimated to number 670,000, 51% of which are Protestant and 49% Roman Catholic.  The Protestant Church comprises 1,300 congregations in more than 50 denominations, the largest being Baptist, Lutheran, Adventist, Anglican, Christian and Missionary Alliance, Presbyterian and Congregational, Methodist, Pentecostal and Salvation Army.    Both groups support many educational and community services.  Christian organizations are responsible for a great number of educational institutions, hospitals, community centers, day care centers, children's homes, elderly centers and schools for the handicapped.  
The Muslim community numbers 220,000, more than half of which are Chinese.  There are five principal mosques used for daily prayers.  The oldest is the Jamia Masjid on Shelley Street, Hong Kong, which was rebuilt in 1915.  The Masjid Ammar and Osman Ramju Sadick Islamic Centre in Wan Chai have a community hall, library, and medical clinic as well as a masjid.  The most distinctive Kowloon Masjid and Islamic Centre is located on Nathan Road in Kowloon, and has three prayer halls, a community hall, medical clinic and library. 
 The Hindu community is 40,000 strong.  Religious and social activities centre on the Hindu Temple in Happy Valley.  
The Sikhs first came to Hong Kong in the 19th Century with the British Armed Forces and currently number around 10,000 in Hong Kong.  Prior to World War II, a large segment of the Hong Kong Police Department was Sikh.  The centre of their religious worship is located at the Sikh Temple in Wan Chai.  A special feature of the temple, which was established in 1901, is the provision of free meals and short-term accommodation for overseas visitors of any faith.
Hong Kong's Jewish community, which is currently 3,000-strong with three main synagogues, dates back to the 1840s. The Ohel Leah Synagogue was built in 1902.  Attached to the synagogue is a Jewish Community Centre that offers its members and visiting Jews supervised kosher dining and banquet, cultural and recreational facilities, as well as a specialist library covering all aspects of Judaica.  There are also a number of associated groups centered on a common interest, such as the Jewish Women's Association and the Jewish Historical Society.  The community also operates a Jewish international school, which has an international stream that is open to students of all faiths.